A little about Edward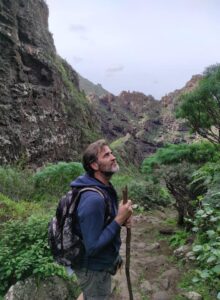 Beyond being a fabulous intuitive healer and a heart oriented yoga teacher, Edward has spent a good part of his life investigating spirituality and different self-development modalities. He was inspired after experiencing a direct awakening event in the year 2000, which propelled him to make changes in himself and his life.
 Over the years he has explored different healing disciplines whilst travelling between different places within Europe and Asia. It was during his 4 year stay in India, as he worked as director at the Purple Valley Yoga Centre in Goa, that he became Master of the Tibetan and Usui Shiki Ryoho systems and later in Spain, of the Karuna Shiki Ryoho Reiki lineage as well. With time and practice, he started to develop his own intuitive and unique style of healing
Edward is also a certified as a yoga teacher in Sivananda, Hatha, and Asthanga, as well as being a practitioner of Kriya Yoga. In 2018, he completed the 300 hrs Hatha-Ashtanga Yoga TTC at the World Peace Yoga School in Rishikesh and years earlier, the 200 hrs TTC in the Sivananda Yoga Centre in London.
To complete his research, he has a Master in 'NLP and Coaching', studied for a few years in the London College of Psychic Studies and has also attended trainings/workshops relating to shamanism, crystal and Tibetan bowl healing. At the end of 2018, he was certified by the Samma Karuna School, in Thailand, as a Heart based Tantra teacher. He was certified as a Rebirther in September 2019, in Spain, during an advanced 18-day training intensive, in Rebirthing Jove's Summer School, Recently he has explored  different Tantrik healing modalities which include Tantric Massage and Dearmouring.
He founded "Asociación de Bienestar Anahata" in Tenerife to share the experience gained over the years during his process. The association was created as a space in which he could provide a sense of peace, security and trust. At Anahata he shared his lovely devotion for yoga, offered meditation classes, different group activities, collaborated with other teachers, and provided individual therapies. The aim of it all, to provide each person a chance to reconnect with their own essence and find a sense of inner peace. Giving them the possibility of exploring various paths of development, according to their own level and individual needs. 
He is now based in Hermigua, La Gomera.
Edward is bilingual Spanish-English and has experience in dealing with people of various nationalities.
Reiki Initiations, Spiritual Coaching, Intuitive Healing,
Tantric Bodywork- Tantrik Energy work – Dearmouring